Proline Prosonic Flow 92F
Ultrasonic flowmeter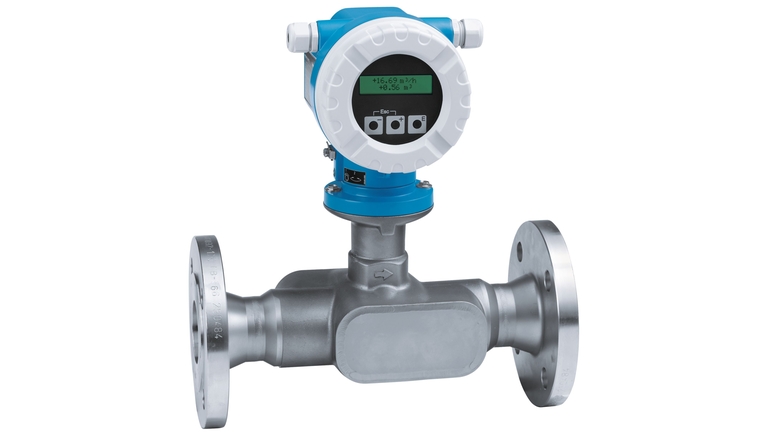 Highly accurate, loop-powered flowmeter with innovative parallel path design for minimum inlet runs
Prosonic Flow F is the inline sensor with rugged industrial design for Ultrasonic fluid measurement. Combined with the loop-powered Prosonic Flow 92 transmitter, the device offers easy system integration and accuracy at an attractive price. Prosonic Flow 92F is ideally suited for the chemical and petrochemical industries.
Quick selection
Choose from our suggested options
Individual configuration
Continue your selection from all possible options
Benefits

Safe design for process industries – international hazardous area approvals

No additional pressure loss – full-bore design

Process transparency – diagnostic capability

Easy installation and reduced installation costs – loop-powered transmitter

Fully...
Field of application

The measuring principle is independent of pressure, density, temperature, conductivity and viscosity

Inline device for homogeneous conductive and non-conductive liquids in the chemical and petrochemical industry

Device properties:
Documents / Manuals / Software
Accessories / Spare parts
Kit amplifier 92F HART Ex V1.00.04

Kit amplifier 92F HART Ex V1.01.02

Kit amplifier 92F Profib. PA Ex V1.00.03

Kit amplifier 92F Profib.PA Ex V1.01.04

Kit amplifier 92F Found.F. Ex V1.00.00

Kit amplifier 92F Found.F. Ex V1.01.04

Kit I/O-board 92F HART Exi

Kit I/O-board 92F HART/pulse Exi

Kit I/O-board 92F PROFIBUS PA Exi

Kit I/O-board 92F Found.Fieldbus Exi

Kit I/O-board 92F HART Exd

Kit I/O-board 92F HART/pulse Exd

Kit I/O-board 92F PROFIBUS PA Exd

Kit I/O-board 92F Found.Fieldbus Exd

Kit display 72/73/92F(HART) 12 languages

Language: EN+DE+FR+ES+IT+NL+NO+SV+ FI+PT+PL+CS

Kit display72/73/92F(FF/PA) 12 languages

Language: EN+DE+FR+ES+IT+NL+NO+SV+ FI+PT+PL+CS

Nr

12

Order code

50103527

Nr

12

Order code

71247838

Repair kit cover, remote version

Usage: 10/5X/8X/8DF/8CN/92F/65/400/800 acc. service info SI01351D-1/06 Consists of: Cover Rep.kit for G14, O-Ring 110.00 x 4.50 HNBR, Grease

Nr

10

Order code

50106386

Kit cover connection compart. Exd

72/73/92F/8FF/8FE/8CM

Kit 10 cable glands M20x1,5 grey

Kit 10 cable glands M20x1.5 Ex

Kit 10 ext. M20x1.5/G 1/2" (plug PVC)

Kit 10 ext. M20x1.5/NPT 1/2" (plug PVC)

Kit Ground terminal/Cover clamp

10/1YH/23/65/72/73/91W/92F/8FF/8FE/8CM

Overview auxiliary equipment see spare part picture

Transmitter 80/83/84, mounting set

Prosonic Flow 92F, sensor cable set