Did you know? Heartbeat
The Human Heart
Every day your heart beats about 100,000 times, sending around 7,500 litres (or 7.5 cubic metres) of blood flowing through your body.
No bigger than the average fist, your heart is tasked with keeping blood flowing through the 100,000 kilometres of blood vessels that supply your organs and tissue. Any damage to the heart or its valves can reduce that pumping power, forcing the heart to work harder just to keep up with the body's demand for blood.
Keeping your body in good health ensures that your heart is a more efficient organ. The exact same principle applies to flowmeters.
If a flowmeter's electronics are functioning correctly within specific, traceable and tightly defined tolerances, then it follows that it will be functioning with high accuracy and maximum reliability. Which is essential for measuring points relevant to quality. So how do you verify that this is the case?
Heartbeat Technology
Heartbeat Technology is a new function integrated into the new generation of Proline devices that, in addition to their stable long-term measurement, enables continuous diagnostics as well as comprehensive meter performance verification.
Traceable Verification
This makes it possible to fulfill the traceability requirements in the context of ISO 9001 without problems – where and when requested without prolonged interruption to the measurement. In fact, verification takes on average a matter of minutes, if not seconds.
Other Benefits
No need to dismantle the device
Transfer of inspection reports via webserver or asset management systems
Complete documentation of a measuring device's performance
Automatic saving of verification report results directly in the device memory.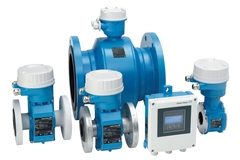 Revive your OPEX budget
An optional feature of Heartbeat Verification allows customers the freedom to perform meter verifications themselves according to either specified industry and/or regulatory time frames or at any interval of their choice.
If you would like to know more about calibration, traceability and accreditation for flow measurement technologies take a look at our latest video
Simple products

Easy to select, install and operate
Technical excellence
Simplicity
Standard products

Reliable, robust and low-maintenance
Technical excellence
Simplicity
High-end products

Highly functional and convenient
Technical excellence
Simplicity
Specialized products

Designed for demanding applications
Technical excellence
Simplicity
FLEX selections
Technical excellence
Simplicity

Fundamental selection

Meet your basic measurement needs

Technical excellence

Simplicity

Lean selection

Handle your core processes easily

Technical excellence

Simplicity

Extended selection

Optimize your processes with innovative technologies

Technical excellence

Simplicity

Xpert selection

Master your most challenging applications

Technical excellence

Simplicity