Tank Farm Safety
Does your fuel storage meet the IEC 61511 safety requirements or API 2350 recommended practices?
Overfilling tanks is bad business. Not only is there financial loss associated with the lost product, but when the product is toxic or flammable, then the danger to personnel, asset, and environmental safety is undeniable.

A major incident due to any of these factors usually carries a heavy cost not only fiscally, but in terms of impact on the customer brand. Systems dedicated to prevention of overfilling are not only logical, but in many cases mandated, for this very reason.
Benefits
Complying with regulation - The clear message from regulator regulations is: In addition to level monitoring, tanks must be equipped with an independent, highly available safety system for overfill protection.

Integrated offering - Endress+Hauser not only provides tank gauging solutions, but also a complete SIL 2 or SIL 3 independently certified Overfill Prevention System (OPS). This includes High-High level switch, logic solver, and actuators for ESD.

Safety by design - The complete OPS is compliant to IEC 61511 and also fulfils API 2350 requirements. Additionally, the level switch hardware is designed to IEC 61508 standards. So, you can rest assured that your OPS is in safe hands.

Simplified proof-testing - The ability to carry out remote, automated proof tests without compromising SIL requirements, dramatically extends the period between wet proof testing of HH level switches (depending on PFD calculations up to 10 years+).

Always safe - the OPS ensures that your tanks are always in a safe state; regardless of power failures, interruptions to inventory monitoring system availability, or control system downtime.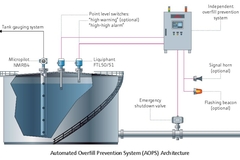 Where do I start?
Sometimes, getting started is the hardest part of a project. Whether you're looking at the design and development of a greenfield terminal or looking at upgrading the emergency systems on a brownfield site - knowing which aspects of tank safety need urgent assessment can be difficult.
At Endress+Hauser we can assist you, regardless of the stage of your project. Our solution is scalable from small depots to complete terminals. Fill in the form below to start the discussion with our Specialist.
Success stories
Increasing safety levels

Our tank overfill prevention solution with independent high-level alarm was installed in the Middle East and helped our customer minimize risks of major hazards.
Simple products

Easy to select, install and operate
Technical excellence
Simplicity
Standard products

Reliable, robust and low-maintenance
Technical excellence
Simplicity
High-end products

Highly functional and convenient
Technical excellence
Simplicity
Specialized products

Designed for demanding applications
Technical excellence
Simplicity
FLEX selections
Technical excellence
Simplicity

Fundamental selection

Meet your basic measurement needs

Technical excellence

Simplicity

Lean selection

Handle your core processes easily

Technical excellence

Simplicity

Extended selection

Optimize your processes with innovative technologies

Technical excellence

Simplicity

Xpert selection

Master your most challenging applications

Technical excellence

Simplicity