Manual retractable assembly Cleanfit CPA450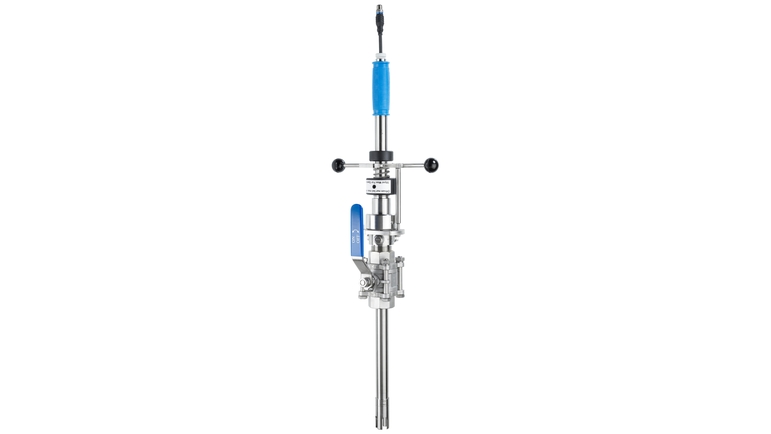 Basic assembly for the water & wastewater, chemical, pulp & paper and power industries
The manual Cleanfit CPA450 is the first step into the world of retractable assemblies. It is designed for installation in thick-walled tanks or large pipes and copes with fibrous or coating media. CPA450 features a ball valve which seals off the process reliably, making sensor handling extremely easy. It is no longer necessary to interrupt the process or empty a tank for sensor service or replacement.
Quick selection
Choose from our suggested options
Individual configuration
Continue your selection from all possible options
Benefits

No process interruption for electrode cleaning and calibration – saves maintenance time and costs

High operating safety through reliable separation from process by ball valve made of stainless steel

Variable immersion depth up to 700 mm

Flexible adaptation...
Field of application

Cleanfit CPA450 is intended for installation in thick-walled tanks and large pipes in:

Chemical industry

Pulp and paper industry

Power plants

Wastewater treatment

Fibrous media or media that form coats

It is suitable for use with pressures of up to 12...
Documents / Manuals / Software
Accessories / Spare parts
EPDM O-ring set for CPA 450

Viton O-ring set for CPA 450

Kalrez O-ring set for CPA 450

Kit CPA450 PM mounting set

PAL mounting kit

For contacting the potential matching line in the Probfit assembly CPA 450

Kit CPA450 Sensor holder; 316L; EPDM

Kit CPA450 Sensor holder; 316L; Viton

Kit CPA450 Sensor holder; 316L; Kalrez

Kit CPA450: Sensor holder; C4; Kalrez

Kit CPA450: Sensor holder; Ti; Kalrez

Kit CPA450, immersion tube 100 mm 316L

Kit CPA450, immersion tube 250 mm 316L

Kit CPA450, immersion tube 700 mm 316L

Kit CPA450, immersion tube 100mm Alloy

Kit CPA450, immersion tube 250mm Alloy

Kit CPA450, immersion tube 700mm Alloy

Kit CPA450, immersion tube 100mm titan.

Kit CPA450, immersion tube 250mm titan.

Kit CPA450, immersion tube 700mm titan.

Kit CPA450, Handle bar with thread 316L

with splash protection cap

Kit CPA450 Sealing for handle bar

contains 5 pieces of sealings

Splash protection cap for assemblies

Safety Kit CPA450

Material 316L; safeguarding measurementposition up to 12 bar

Kit CPA450 Interlock; PA

contains setting collar, clamping ring and union nut

Kit CPA450 Flanged sleeve; 316L; EPDM

Kit CPA450 Flanged sleeve; 316L; Viton

Kit CPA450 Flanged sleeve; 316L; Kalrez

Kit CPA450 Flanged sleeve; Alloy; Kalrez

Kit CPA450 Flanged sleeve; Ti; Kalrez

Kit CPA450 Rinse cham. G1 1/4 inch; 316L

Kit CPA450 Flushing NPT 1 1/4 inch; 316L

Kit CPA450 Closing screws; 316L

for rinse chamber

Kit CPA450: Rinse Chamber MNPT 1,5";C4

Kit CPA450: Rinse Chamber ANSI 2";C4

Kit CPA450: 3 Locking screws;C4

Kit CPA450: Rinse Chamb. MNPT 1,5";Titan

Kit CPA450: Rinse Chamber ANSI 2";Titan

Kit CPA450: 3 Locking screws;Titanium

Manometer G 1/4" for CPA450; 0-16 bar

mount on chamber, control pressure by manual operation

Drain ball 1/4" for drain of chamber

Hose connection set PVDF, G 1/4"-DN 12

for porge chamber for CPA450

Hose connection set 1.4404, G 1/4"/DN12

Kit CPA450 Ball valve G1 1/4 inch ; 316

Kit CPA450 Ball valve NPT1 1/4 inch; 316

Kit CPA450 Flange DN32; 316

Kit CPA450 Flange AISI 1 1/4 inch ; 316

Kit CPA450 Rinse cha. flange;316L;EPDM

Kit CPA450 Rinse chamber;316L;Viton

Kit CPA450 Rinse cha. flange;316L;Kalrez

Kit CPA450 Ball valve DN32 Flange; 316

Kit CPA450 Ball val. ANSI1 1/4 inch; 316

Welding adaptor straight for CPA450-F/G

with G 1 1/4 external thread (conic) Material: stainless steel 316L

Hook wrench DIN 1810 form B

for diameter 58-62 mm