Nitrogen & phosphate control system
Liquiline Control CDC81
Efficiency improvements and cost savings for wastewater treatment plants
Liquiline Control CDC81 is the solution for reliable and safe outlet values combined with energy and cost savings in your wastewater treatment plant. It provides dynamic, load-based control of the biological treatment and of the precipitant pumps during phosphate elimination. Liquiline Control can control multiple biological stages at the same time and enables seamless and quick integration into your existing environment thanks to digital bus and remote technologies.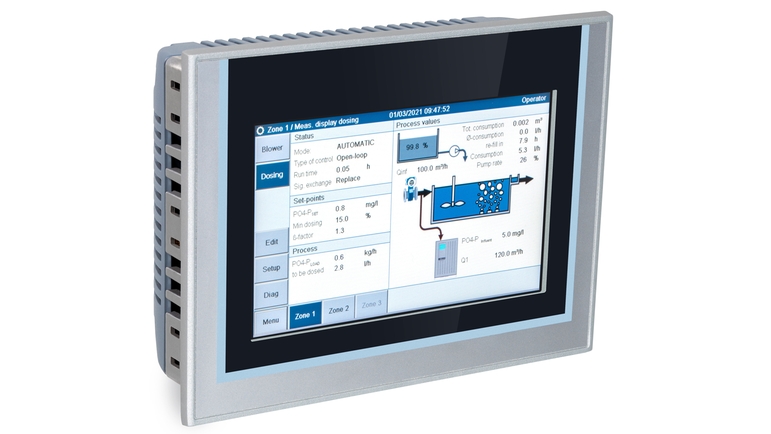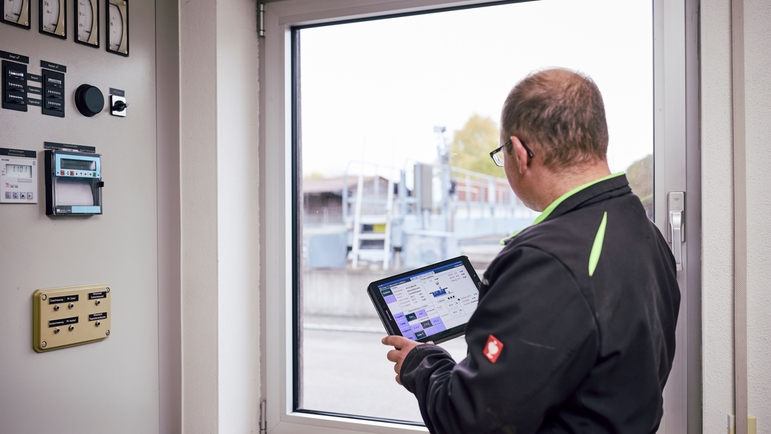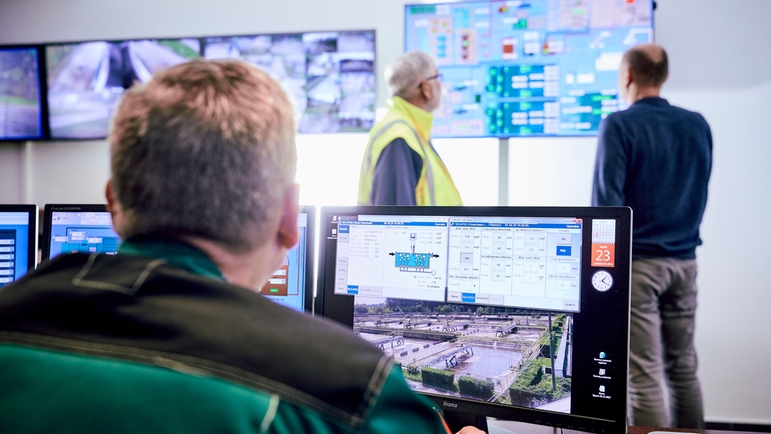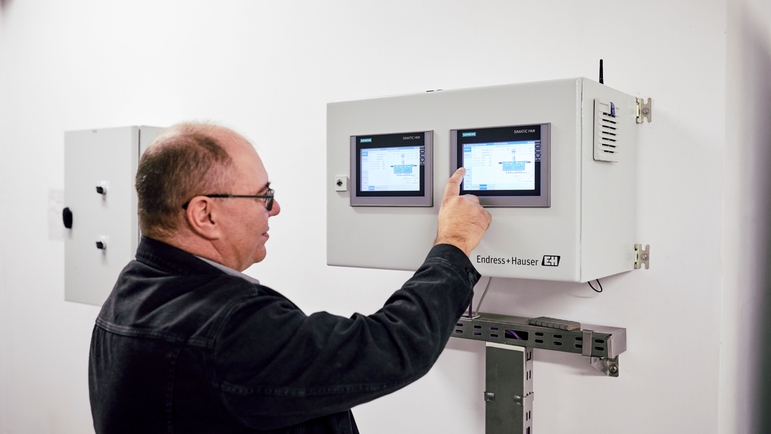 Efficient and reliable nutrient decomposition
An active controller detects the rate of change of the nitrification process, thus determining the direct behavior of the biology in intermittent phases. The system dynamically adjusts the oxygen set point with respect to the nutrient concentration. Simply put: high load equals high oxygen setpoint and low load equals low oxygen setpoint. In the case of continuously driving blowers, a feed-forward control strategy is used: this compensates for swift load changes via predictive preparation.
Load-dependent, chemical phosphate elimination
The Liquiline Control uses continuous flow rate and phosphate measurement to control your dosing pump and to ensure efficient phosphate elimination. It can thus quickly adjust precipitant dosing in the case of changing loads or flow rates. This ensures the most efficient phosphate conversion, which means that you use less precipitant and therefore reduce cost. In addition, optimized precipitant dosing prevents increased salting of the biology and increasing volumes of sludge.
Process reliability and control
Thanks to continuous measured value and signal validation, Liquiline Control guarantees stable plant operation and reliable plant discharge. Should a measured value or even a blower fail, the system switches the affected control loops into a corresponding safety condition and sends error or warning messages. The original plant operation settings can be restored at any time via selector switch. Even after installation, plant personnel have full control of the process at all times.

Easy integration into existing plants
Liquiline Control is designed as a modular, expandable system with architecture primarily based on a programmable logic controller (PLC) and individual signal interfaces. Available as a stand-alone solution or decentralized in various housing configurations, this flexibility allows for quick and easy integration into existing process control systems, as well as incorporation of existing instrumentation.
Easy-to-use remote access
Using fieldbus technology, Liquiline Control retransmits all remote measurement data to a central point such as your control room. This enables you easy monitoring of the processes and adjustment of the control. Furthermore, process monitoring via secure VPN is particularly quick and simple. This allows your treatment plant staff to manage the measured values and parameters regardless of location and weather conditions.
Liquiline Control - features
Oxygen control with automatic load detection and concentration adjustment

Simultaneous monitoring of multiple biological stages

Validation of measured values and sensor signals

Local, self-contained control unit or integration into existing PCS

Continuous or intermittent operation of the biological stage including from base load to peak load

Predictive control strategies for attenuating load spikes

Flush load for long denitrification phases

Chemical phosphate elimination

Remote access
Liquiline Control - measuring technology
Oxygen measurement

Ammonium and nitrate measurement

Phosphate measurement

Flow measurement
Liquiline Control - services
Commissioning

Optimization during operation

Application trainings

Remote maintenance
Simple products

Easy to select, install and operate
Technical excellence
Simplicity
Standard products

Reliable, robust and low-maintenance
Technical excellence
Simplicity
High-end products

Highly functional and convenient
Technical excellence
Simplicity
Specialized products

Designed for demanding applications
Technical excellence
Simplicity
FLEX selections
Technical excellence
Simplicity

Fundamental selection

Meet your basic measurement needs

Technical excellence

Simplicity

Lean selection

Handle your core processes easily

Technical excellence

Simplicity

Extended selection

Optimize your processes with innovative technologies

Technical excellence

Simplicity

Xpert selection

Master your most challenging applications

Technical excellence

Simplicity