Raw pump station upgrade with the Promag W 0 x DN
High flow accuracy using the world's first full bore electromagnetic flowmeter
Accurate flow measurement in water pump stations is crucial for optimal process control, monitoring and efficiency. Standard electromagnetic flowmeter installations require at least five straight run pipe diameters upstream and two pipe diameters downstream from the electrode plane to comply with the specified accuracy. Why? Electromagnetic flowmeters like stable flow profiles.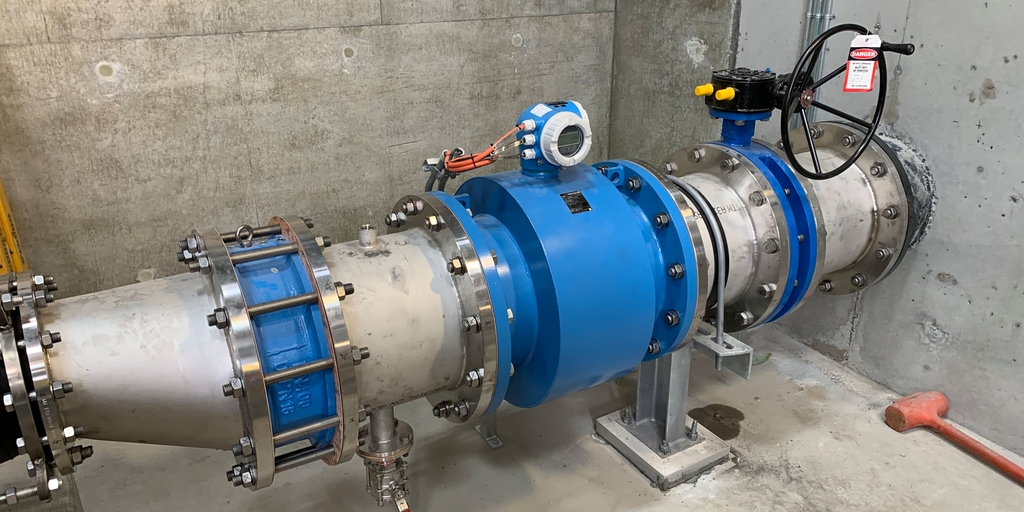 Results
Reduced installation costs – since the flowmeter was installed without the typical upstream and downstream pipe lengths, no pipe re-routing was required

Guaranteed flow measurement accuracy of ±0.5% o.r. in restricted installations – multiple measurement electrode pairs allowed high accuracy even in variable flow profiles

Reduced commissioning costs – Heartbeat Technology provided fully traceable, documented flowmeter verification at a fraction of the time of typical external verifications
Challenge
For the North East Water (NEW) raw water pump station (RWPS) upgrade, the intended flowmeter installation location contained several flow obstructions, including a DN300 to DN400 expansion joint directly upstream and a gate valve directly downstream. In this project, engineers had a choice: comply with the standard upstream and downstream straight run length requirements by installing a costly pipe re-route, or install a flowmeter that can sufficiently handle the changing flow-profile.
Solution
The Promag W 0 x DN with its full bore design and multiple electrode measurement pairs ensured no pressure. It easily handled the swirling flow profile caused by the expansion joint upstream of the flowmeter eliminating the need of pipe re-routing.
Onboard self-verification tool, Heartbeat Technology provided fully traceable & documented verification of functionality during commissioning. Verification was completed via the in-built web server in a fraction of the time of standard verification.
Related offering

Simple products

Easy to select, install and operate
Technical excellence
Simplicity
Standard products

Reliable, robust and low-maintenance
Technical excellence
Simplicity
High-end products

Highly functional and convenient
Technical excellence
Simplicity
Specialized products

Designed for demanding applications
Technical excellence
Simplicity
FLEX selections
Technical excellence
Simplicity

Fundamental selection

Meet your basic measurement needs

Technical excellence

Simplicity

Lean selection

Handle your core processes easily

Technical excellence

Simplicity

Extended selection

Optimize your processes with innovative technologies

Technical excellence

Simplicity

Xpert selection

Master your most challenging applications

Technical excellence

Simplicity