Digital conductivity sensor
Condumax CLS16D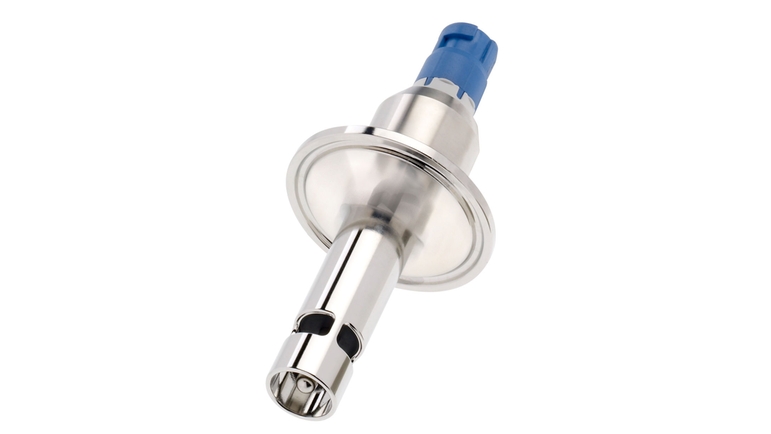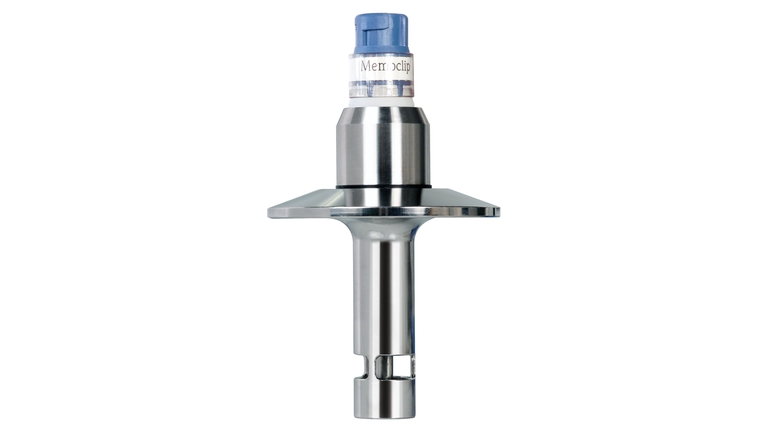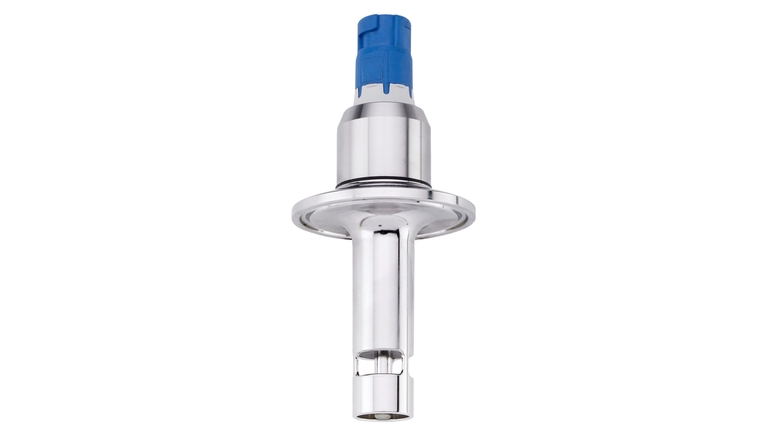 Memosens conductive conductivity sensor for hygienic applications in pure and ultrapure water
Condumax CLS16D is a high-end conductivity sensor with certified hygienic design. It measures with highest precision providing you with reliable data for optimum process and product quality. Numerous certificates and various hygienic process connections ensure the perfect fit for your process. With Memosens technology, CLS16D combines maximum process and data integrity with simple operation. It resists corrosion and moisture, enables lab calibration, and facilitates predictive maintenance.
Simple products

Easy to select, install and operate
Technical excellence
Simplicity
Standard products

Reliable, robust and low-maintenance
Technical excellence
Simplicity
High-end products

Highly functional and convenient
Technical excellence
Simplicity
Specialized products

Designed for demanding applications
Technical excellence
Simplicity
FLEX selections
Technical excellence
Simplicity

Fundamental selection

Meet your basic measurement needs

Technical excellence

Simplicity

Lean selection

Handle your core processes easily

Technical excellence

Simplicity

Extended selection

Optimize your processes with innovative technologies

Technical excellence

Simplicity

Xpert selection

Master your most challenging applications

Technical excellence

Simplicity
Specs at a glance

Measurement range

Process temperature

-5 to 120 °C (23 to 248 °F)
For Sterilizsation: max. 150 °C at 5 bar
(Max. 302 °F at 73 psi)

Process pressure

13 bar at 20 °C (188 psi at 68 °F)
9 bar at 120 °C (130 psi at 248 °F)
Loading alternative products
Quick selection
Choose from our suggested options
Individual configuration
Continue your selection from all possible options
Benefits

Highest precision and measuring accuracy

Hygienic design certified by EHEDG

Certified biocompatibility according to USP class VI and FDA compliance of all wetted materials

Sterilizable and autoclavable

Quality certificate stating the individual cell constant

Logging of sensor-specific data for easy traceability...
Field of application

Condumax CLS16D measures conductivity in pure and ultrapure water applications for the monitoring and control of:

Ion exchangers

Reverse osmosis

Distillation

Electro-deionizing

Water for injection (WFI)

With its international explosion protection...
Documents / Manuals / Software
Technical Information Condumax CLS16/CLS16D

Conductivity conductively measured

Technical Information (TI)

Condumax CLS15D/16D/21D

For conductive measurement of conductivity in liquids

Operating Instruction (BA)

Safety instructions Condumax CLS15D, CLS16D, CLS21D

Safety instructions for electrical apparatus for explosion-hazardous
areas

Ex Safety Instructions (XA)

Safety instructions Condumax CLS15D, CLS16D, CLS21D

Safety instructions for electrical apparatus for explosion-hazardous
zone 2

Ex Safety Instructions (XA)

Manufacturer Declaration

TSE/BSE free

Memoclip

Äußere Kennzeichnung von digitalen Sensoren und Kabeln mit
Memosens-Technologie

Special Documentation (SD)

Pomiar jakości wody- ECiZ_09_2011

Urządzenia kontrolno-pomiarowe umożliwiające ciągłe i bezpieczne
użytkowanie obiektu oraz zabezpieczają instalację technologiczną przed
ewentualnymi uszkodzeniami.

Expertise in liquid analysis

From sensors to complete turnkey solutions

Fields of Activities (FA)

03/19

Kompetenz in der Flüssigkeitsanalyse

Vom Sensor bis zur schlüsselfertigen Komplettlösung

Fields of Activities (FA)

03/19

Esperti nell'analisi dei liquidi

Dai sensori singoli a soluzioni
complete "chiavi in mano"

Fields of Activities (FA)

01/17

Catálogo Portfolio Analítica

Desde sensores hasta soluciones completas

Fields of Activities (FA)

01/17

Jistota v analýze kapalin

Od senzorů po kompletní dodávku na klíč

Fields of Activities (FA)

01/17

Conductivity measurement in industrial processes

Selection and engineering guide for different industries and
applications

Competence Brochure (CP)

12/19

Leitfähigkeitsmessung in Industrieprozessen

Auswahl- und Engineeringhilfe für verschiedene Industrien und
Anwendungen

Competence Brochure (CP)

12/19

Memosens – Weg frei zum Industriestandard

Memosens-Technologie wird künftig gemeinsam genutzt und weiterentwickelt

Memosens: En route to becoming the industry standard

Joint effort for utilizing and enhancing Memosens technology in the
future

Condumax W CLS15D, CLS21D Condumax H CLS16D

Digitale Leitfähigkeitssensoren mit Memosens Technologie

Condumax W CLS15D, CLS21D Condumax H CLS16D

Digital conductivity sensors with Memosens technology

Memosens digital sensor technology for liquid analysis (mp4 format, 61.7 MB)

De Memosens technologie van Endress+Hauser is een revolutie in
vloeistofanalyse.
Het zet een analoge meetwaarde om in een digitaal signaal dat geheel
galvanisch
gescheiden naar de transmitter gaat.
Memosens sensoren slaan kalibratie-, sensor- en procesdata op in hun
interne
geheugen. Dit zorgt voor een juiste processturing en optimaal onderhoud.

Memosens digital sensor technology for liquid analysis (mp4 format, 61.7 MB)

La technologie Memosens Endress et Hauser révolutionne l'analyse
physico-
chimique. Elle convertit les valeurs mesurées en signaux numériques et
les transfère
au transmetteur via une connexion sans contact.
Les capteurs Memosens mémorisent les données d'étalonnage, de capteur et
de
process, ce qui permet un contrôle précis du process et une maintenance
optimale.

Memosens - Digitale Sensortechnologie für die Flüssigkeitsanalyse (mp4-Format, 61.7 MB)

Memosens digitalisiert den Messwert im Sensor und überträgt ihn
kontaktlos zum
Messumformer.
Dieses Video zeigt, wie Memosens funktioniert und wie PAT-Mitarbeiter
davon
profitieren.

Memosens digital sensor technology for liquid analysis (mp4 format, 61.7 MB)

Memosens converts the measured value to a digital signal and transfers
it to the transmitter without a contacting connection.
This video shows how it works and how people in process analytics
profit from it.

Tecnología Memosens - Fácil, segura y sencilla (mp4-Format, 61.7 MB)

La tecnología Memosens de Endress+Hauser ha revolucionado el análisis de
líquidos.
Convierte el valor medido en una señal digital, y la transfiere por
inducción al transmisor.

Memosens digital sensor technology for liquid analysis (flv format, 17.2 MB)

Memosens converts the measured value to a digital signal and transfers
it to the transmitter without a contacting connection.
This video shows how it works and how people in process analytics
profit from it.

Memosens - Digitale Sensortechnologie für die Flüssigkeitsanalyse (flv-Format, 17.8 MB)

Memosens digitalisiert den Messwert im Sensor und überträgt ihn
kontaktlos zum Messumformer.
Dieses Video zeigt, wie Memosens funktioniert und wie PAT-Mitarbeiter
davon profitieren.

Measurement of electrical conductivity (.mp4 format, 70,7MB)

The conductivity of a liquid can be measured using the conductive or
toroidal measuring principles. This video shows what it is about and how
these measuring principles work.

Measurement of electrical conductivity (.mp4 format, 116 MB)

The conductivity of a liquid can be measured using the conductive or
toroidal measuring principles. This video shows what it is about and how
these measuring principles work.

ConduMax H

Product Code: CLS16D-
Declaration Number: HE_00410_01.17
Manufacturer Specification: RoHS

ConduMax H

Product Code: CLS16-, CLS16D-
Declaration Number: HE_00427_03.17
Manufacturer Specification: 1935/2004

ConduMax H

Product Code: CLS16D-
Declaration Number: HE_01342_01.20

ConduMax H

Product Code: CLS16D-
Declaration Number: HE_01104_01.19
Manufacturer Specification: RoHS

ConduMax H

Product Code: CLS16-, CLS16D-
Declaration Number: FDA_00193_01.18

OxyMax W, OxyMax H, OrbiSint, OrbiPore, OrbiPac, Messkabel, Memosens, Liquiline, InduMax P, InduMax H, ConduMax W, ConduMax H, CeraLiquid, CeraGel

Product Code: CYK20-, CYK10-, CPS92D-, CPS72D-, CPS71D-, CPS42D-, CPS41D-, CPS31D-, CPS16D-, CPS12D-, CPS11D-, CPF82D-, COS81D-, COS51D-, COS22D-, COS21D-, CML18-, CLS82D-, CLS54D-, CLS50D-, CLS21D-, CLS16D-, CLS15D-
Declaration Number: EC_00828_01.20

ConduMax H, ConduMax W, Messkabel

Product Code: CLS15D-, CLS16D-, CLS21D-, CYK10-, CYK20-
Declaration Number: EC_00358_02.16

ConduMax H, ConduMax W, Messkabel

Product Code: CLS15D-, CLS16D-, CLS21D-, CYK10-, CYK20-
Declaration Number: EC_00360_02.16

ConduMax H, ConduMax W, Messkabel

Product Code: CLS15D-, CLS16D-, CLS21D-, CYK10-, CYK20-
Declaration Number: EC_00361_02.16

ConduMax H, ConduMax W, InduMax H, InduMax P, Liquisys Conductivity, Memosens, SmarTec, SmarTec S

Product Code: CLS82D-, CLS54D-, CLS54-, CLS50D-, CLS50-, CLS30-, CLS21D-, CLS21-, CLS19-, CLS16D-, CLS16-, CLS15D-, CLS15-, CLS13-, CLS12-, CLM253-, CLM223F-, CLM223-, CLD18-, CLD134-, CLD132-
Approval Number: EAEC RU D-DE.AD.07.B.01362/19

SmarTec S, SmarTec, Sensor, Memosens, Liquisys Conductivity, Liquiline, InduMax P, InduMax H, ConduMax W, ConduMax H, Chloromax, ANALOG

Product Code: CLM253-, CLS12-, CLS13-, CLS15-, CLS15D-, CLS16-, CLS16D-, CLS19-, CLS21-, CLS21D-, CLS30-, CLS50-, CLS50D-, CLS54-, CLS54D-, CLS82D-, CYM290-, CLM223F-, CLM223-, CLD18-, CLD134-, CLD132-, CCS55D-, CCS51D-, CCS51-, CCS50D-, CCS50-, CCS241-, CCS240-, CCS142D-, CCS141-, CCS140-, CCS120D-, CCS120-
Region/Country: Russia (Declaration of Conformity)
Approval Number: EAEC RU D-DE.AD07.B.01363/19

OxyMax W, OxyMax H, OrbiSint, OrbiPore, Messkabel, Memosens, Memocheck, ConduMax W, ConduMax H, Ceramax, CeraLiquid, CeraGel

Product Code: CYP02D-, CYP01D-, CYK20-, CYK10-, CPS92D-, CPS91D-, CPS72D-, CPS71D-, CPS491D-, CPS471D-, CPS441D-, CPS42D-, CPS41D-, CPS341D-, CPS171D-, CPS12D-, CPS11D-, COS81D-, COS51D-, COS22D-, COS21D-, CLS82D-, CLS21D-, CLS16D-, CLS15D-
Region/Country: Europe (ATEX)
Approval Agency: EXAM (DMT, BVS)

TopHit, Sensor, OxyMax W, OrbiTex, OrbiSint, OrbiPore, Memosens, Liquiline M, InduMax P, InduMax H, ConduMax W, ConduMax H, CeraLiquid, CeraGel

Product Code: CPS42-, CPS43-, CPS441-, CPS441D-, CPS471-, CPS471D-, CPS491-, CPS64-, CPS72-, CPS72D-, CPS91-, CPS91D-, CPS92-, CPS92D-, CPS96D-, CPS41-, CPS21-, CPS16D-, CPS13-, CPS12D-, CPS12-, CPS11D-, CPS11-, COS51D-, CM42-, CLS54-, CLS50D-, CLS50-, CLS16D-, CLS15D-
Region/Country: Russia (TR CU)
Approval Agency: EAC
Protection: Ex ia IIC T6 Ga, Ex ia IIC T6...T3 Ga, Ex ia IIC T6...T4 Ga, Ex ib [ia Ga] IIC T6...T4 Ga

TopHit, OxyMax W, OxyMax H, OrbiSint, OrbiPore, Messkabel, Memocheck, ConduMax W, ConduMax H, CeraLiquid, CeraGel

Product Code: CYP02D-, CYP01D-, CYK10-, CPS92D-, CPS91D-, CPS72D-, CPS71D-, CPS491D-, CPS471D-, CPS441D-, CPS42D-, CPS41D-, CPS12D-, CPS11D-, COS51D-, COS22D-, CLS21D-, CLS16D-, CLS15D-
Region/Country: International (IECEx)
Approval Agency: EXAM (DMT, BVS)

TopHit, OxyMax W, OxyMax H, OrbiSint, OrbiPore, Messkabel, Memosens, Memocheck, ConduMax W, ConduMax H, CeraLiquid, CeraGel

Product Code: CYP02D-, CYP01D-, CYK20-, CYK10-, CPS96D-, CPS92D-, CPS91D-, CPS76D-, CPS72D-, CPS71D-, CPS491D-, CPS471D-, CPS441D-, CPS42D-, CPS41D-, CPS16D-, CPS12D-, CPS11D-, COS51D-, COS22D-, CLS21D-, CLS16D-, CLS15D-
Region/Country: International (IECEx)
Approval Agency: EXAM (DMT, BVS)

CeraLiquid, CeraGel, OxyMax W, OxyMax H, OrbiSint, OrbiPore, Messkabel, Memosens, Memocheck, ConduMax W, ConduMax H, Ceramax

Product Code: CYP02D-, CYP01D-, CYK20-, CYK10-, CPS92D-, CPS91D-, CPS72D-, CPS71D-, CPS491D-, CPS471D-, CPS441D-, CPS42D-, CPS41D-, CPS341D-, CPS171D-, CPS12D-, CPS11D-, COS51D-, COS22D-, COS21D-, CLS82D-, CLS21D-, CLS16D-, CLS15D-
Region/Country: Europe (ATEX)
Approval Agency: EXAM (DMT, BVS)

InduMax P, Liquiline M, Memosens

Product Code: CPS41-, CPS41D-, CPS42-, CPS42D-, CPS441-, CPS441D-, CPS471-, CPS471D-, CPS491-, CPS491D-, CPS64-, CPS71-, CPS71D-, CPS72-, CPS72D-, CPS76D-, CPS91-, CPS91D-, CPS92-, CPS92D-, CPS96D-, CTS1-, CYK10-, CYP01D-, CYP02D-, OPS171D-, CLS12-, CLS13-, CLS15-, CLS15D-, CLS16-, CLS16D-, CLS21-, CLS21D-, CLS50-, CLS50D-, CLS82D-, CM42-, COS21D-, CPS171D-, CPS16D-, CPS13-, CPS12D-, CPS12-, CPS11D-, CPS11-, CPF82D-, CPF82-, CPF81D-, CPF81-, COS51D-, COS22D-
Region/Country: USA
Approval Agency: FM

TopHit, OxyMax W, OxyMax H, OrbiSint, OrbiPore, Messkabel, Memosens, Memocheck, ConduMax W, ConduMax H, CeraLiquid, CeraGel

Product Code: CYP02D-, CYP01D-, CYK20-, CYK10-, CPS96D-, CPS92D-, CPS91D-, CPS76D-, CPS72D-, CPS71D-, CPS491D-, CPS471D-, CPS441D-, CPS42D-, CPS41D-, CPS16D-, CPS12D-, CPS11D-, COS51D-, COS22D-, CLS21D-, CLS16D-, CLS15D-
Region/Country: International (IECEx)
Approval Agency: EXAM (DMT, BVS)

TopHit, OxyMax W, OxyMax H, OrbiSint, OrbiPore, Messkabel, Memosens, Memocheck, ConduMax W, ConduMax H, CeraLiquid, CeraGel

Product Code: CYP02D-, CYP01D-, CYK20-, CYK10-, CPS96D-, CPS92D-, CPS91D-, CPS76D-, CPS72D-, CPS71D-, CPS491D-, CPS471D-, CPS441D-, CPS42D-, CPS41D-, CPS16D-, CPS12D-, CPS11D-, COS51D-, COS22D-, CLS21D-, CLS16D-, CLS15D-
Region/Country: International (IECEx)
Approval Agency: EXAM (DMT, BVS)

TopHit, OxyMax W, OxyMax H, OrbiSint, OrbiPore, OrbiPac, Memosens, Liquiline, InduMax P, ConduMax W, ConduMax H, Chloromax, CeraLiquid, CeraGel

Product Code: CPF81D-, CPF82D-, CPS11D-, CPS12D-, CPS16D-, CPS171D-, CPS41D-, CPS42D-, CPS441D-, CPS471-, CPS471D-, CPS491-, CPS71D-, CPS72D-, CPS76D-, CPS91D-, CPS92D-, CPS96D-, COS81D-, CCS120D-, CCS142D-, CCS50D-, CCS51D-, CLS15D-, CLS16D-, CLS21D-, CLS50D-, CLS82D-, CM442-, CM442R-, CM444-, CM444R-, CM448-, CM448R-, COS21D-, COS22D-, COS51D-
Region/Country: Canada, USA
Approval Agency: CSA

TopHit, OxyMax W, OxyMax H, OrbiSint, OrbiPore, Memosens, ConduMax W, ConduMax H, Ceramax, CeraLiquid, CeraGel

Product Code: CPS96D-, CPS92D-, CPS91D-, CPS76D-, CPS72D-, CPS71D-, CPS491D-, CPS471D-, CPS441D-, CPS42D-, CPS41D-, CPS341D-, CPS171D-, CPS16D-, CPS12D-, CPS11D-, COS81D-, COS51D-, COS22D-, CLS82D-, CLS21D-, CLS16D-, CLS15D-
Region/Country: South Korea
Approval Agency: KTL
Protection: Ex ia IIC T6...T3

ConduMax H, ConduMax W, Messkabel

Product Code: CLS15D-, CLS16D-, CLS21D-, CYK10-, CYK20-
Region/Country: China
Approval Agency: NEPSI

ConduMax H, ConduMax W

Product Code: CLS15D-, CLS16D-, CLS21D-
Region/Country: China
Approval Agency: NEPSI

TopHit, OxyMax W, OxyMax H, OrbiSint, OrbiPore, OrbiPac, OEM, Messkabel, Memosens, InduMax P, ConduMax W, ConduMax H, CeraLiquid, CeraGel

Product Code: CPS471D-, CPS491D-, CPS71D-, CPS72D-, CPS76D-, CPS91D-, CPS92D-, CPS96D-, CYK10-, CYK20-, OCLS82D-, OCOS81D-, OLS21D-, OPS11D-, OPS12D-, OPS171D-, OPS91D-, OYK10-, CPS441D-, CPS42D-, CPS41D-, CPS171D-, CPS16D-, CPS12D-, CPS11D-, CPF82D-, CPF81D-, COS81D-, COS51D-, COS22D-, COS21D-, CLS82D-, CLS50D-, CLS21D-, CLS16D-, CLS15D-
Region/Country: USA, Canada
Approval Agency: CSA

TopHit, OxyMax W, OxyMax H, OrbiSint, OrbiPore, Messkabel, Memosens, Memocheck, ConduMax W, ConduMax H, Ceramax, CeraLiquid, CeraGel

Product Code: CYP02D-, CYP01D-, CYK20-, CYK10-, CPS96D-, CPS92D-, CPS91D-, CPS76D-, CPS72D-, CPS71D-, CPS491D-, CPS471D-, CPS441D-, CPS42D-, CLS15D-, CLS16D-, CLS21D-, CLS82D-, COS22D-, COS51D-, COS81D-, CPS11D-, CPS12D-, CPS16D-, CPS171D-, CPS31D-, CPS341D-, CPS41D-
Region/Country: International (IECEx)
Approval Agency: EXAM (DMT, BVS)

TopHit, OxyMax W, OxyMax H, OrbiSint, OrbiPore, Messkabel, Memosens, Memocheck, ConduMax W, ConduMax H, CeraLiquid, CeraGel

Product Code: CYP02D-, CYP01D-, CYK20-, CYK10-, CPS96D-, CPS92D-, CPS91D-, CPS76D-, CPS72D-, CPS71D-, CPS491D-, CPS471D-, CPS441D-, CPS42D-, CPS41D-, CPS16D-, CPS12D-, CPS11D-, COS51D-, COS22D-, CLS21D-, CLS16D-, CLS15D-
Region/Country: International (IECEx)
Approval Agency: EXAM (DMT, BVS)

ConduMax H, ConduMax W

Product Code: CLS15D-, CLS16D-, CLS21D-
Region/Country: China
Approval Agency: NEPSI

TopHit, Sensor, OxyMax W, OxyMax H, OrbiTex, OrbiSint, OrbiPore, Memosens, Liquiline M, InduMax P, InduMax H, ConduMax W, ConduMax H, CeraLiquid, CeraGel

Product Code: CPS42-, CPS42D-, CPS43-, CPS441-, CPS441D-, CPS471-, CPS471D-, CPS491-, CPS491D-, CPS64-, CPS71-, CPS71D-, CPS72-, CPS72D-, CPS76D-, CPS91-, CPS91D-, CPS92D-, CPS96D-, CPS41D-, CPS41-, CPS21-, CPS16D-, CPS13-, CPS12D-, CPS12-, CPS11D-, CPS11-, COS81D-, COS51D-, COS22D-, CM42-, CLS82D-, CLS54-, CLS50D-, CLS50-, CLS21D-, CLS16D-, CLS15D-
Region/Country: Russia (TR CU)
Approval Agency: EAC
Protection: Ex ia IIC T3 Ga, Ex ia IIC T4 Ga, Ex ia IIC T6 Ga, Ex ib [ia Ga] IIC T4 Gb, Ex ib [ia Ga] IIC T6 Gb

ConduMax H, ConduMax W, Messkabel

Product Code: CLS15D-, CLS16D-, CLS21D-, CYK10-, CYK20-
Region/Country: China
Approval Agency: NEPSI

TopHit, OxyMax W, OxyMax H, OrbiSint, OrbiPore, Messkabel, Memosens, Memocheck, ConduMax W, ConduMax H, Ceramax, CeraLiquid, CeraGel

Product Code: CYP02D-, CYP01D-, CYK20-, CYK10-, CPS96D-, CPS92D-, CPS91D-, CPS76D-, CPS72D-, CPS71D-, CPS491D-, CPS471D-, CPS441D-, CLS15D-, CLS16D-, CLS21D-, CLS82D-, COS22D-, COS51D-, CPS11D-, CPS12D-, CPS16D-, CPS171D-, CPS341D-, CPS41D-, CPS42D-
Region/Country: International (IECEx)
Approval Agency: EXAM (DMT, BVS)

TopHit, OxyMax W, OxyMax H, OrbiSint, OrbiPore, Messkabel, Memosens, Memocheck, ConduMax W, ConduMax H, Ceramax, CeraLiquid, CeraGel

Product Code: CYP02D-, CYP01D-, CYK20-, CYK10-, CPS96D-, CPS92D-, CPS91D-, CPS76D-, CPS72D-, CPS71D-, CPS491D-, CPS471D-, CPS441D-, CPS42D-, CPS41D-, CPS341D-, CPS171D-, CPS16D-, CPS12D-, CPS11D-, COS81D-, COS51D-, COS22D-, CLS82D-, CLS21D-, CLS16D-, CLS15D-
Region/Country: International (IECEx)
Approval Agency: EXAM (DMT, BVS)

TopHit, OxyMax W, OxyMax H, OrbiSint, OrbiPore, OrbiPac, Messkabel, Memosens, Memocheck, Liquiline, InduMax P, ConduMax W, ConduMax H, Chloromax, CeraLiquid, CeraGel

Product Code: CPS41D-, CPS42D-, CPS441D-, CPS471D-, CPS491D-, CPS71D-, CPS72D-, CPS76D-, CPS91D-, CPS92D-, CPS96D-, CYK10-, CYK20-, CYP01D-, CYP02D-, CPS16D-, CPS12D-, CPS11D-, CPF82D-, CPF81D-, COS51D-, COS22D-, COS21D-, CM448R-, CM444R-, CLS50D-, CLS21D-, CLS16D-, CLS15D-, CCS142D-
Region/Country: USA, Canada
Approval Agency: INTERTEK (ETL)
Category: I/2/A,B,C,D/T6, I/2/A,B,C,D/T4A
Protection: NI

ConduMax H, Memosens

Product Code: CLS16-, CLS16D-, CLS16E-
Region/Country: Europe
Approval Agency: TNO

ConduMax H, Memosens

Product Code: CLS16-, CLS16D-, CLS16E-
Region/Country: Canada (CRN)
Approval Agency: CRN

Viomax, Turbimax, TopHit, OxyMax W, OxyMax H, OrbiSint, OrbiPore, OrbiPac, Memosens, Liquiline M, Liquiline, Isemax, InduMax P, InduMax H, ConduMax W, ConduMax H, Chloromax, Ceramax, CeraLiquid, CeraGel

Product Code: CPS47D-, CPS471D-, CPS441D-, CPS42D-, CPS41E-, CPS41D-, CPS341D-, CPS31D-, CPS171D-, CPS16D-, CPS12E-, CPS12D-, CPS11E-, CPS11D-, CPS491D-, CPS71D-, CPS71E-, CPS72D-, CPS76D-, CPS77D-, CPS91D-, CPS91E-, CPS92D-, CPS96D-, CPS97D-, CUS50D-, CUS51D-, CUS52D-, CAS40D-, CCS120D-, CCS142D-, CCS50D-, CCS51D-, CLS15D-, CLS15E-, CLS16D-, CLS16E-, CLS21D-, CLS21E-, CLS50D-, CLS54D-, CLS82D-, CLS82E-, CM14-, CM442-, CM442R-, CM444-, CM444R-, CM448-, CM448R-, COS22D-, COS51D-, COS61D-, COS81D-, CPF81D-, CPF82D-
Region/Country: Russia
Approval Agency: Rosstandart
Approval Number: OC.C.31.004.A NO 54218/1

SmarTec, Memosens, InduMax P, OxyMax W, OxyMax H, OrbiPac, Liquiline M, InduMax H, ConduMax W, ConduMax H

Product Code: CPS96D-, CM42-, CLS50D-, COS22D-, CLS82D-, CLS54D-, COS51D-, CLS54-, CLS52-, CPS76D-, CPS16D-, CPF82D-, CPF82-, CPF81D-, CPF81-, CLS50-, CLS30-, CLS16D-, CLS21D-, CLS21-, CLS15D-, CLS15-, CLS13-, CLS12-, CLD18-
Region/Country: Russia
Approval Agency: Rosstandart
Approval Number: OC.C.31.004.A NO 55929/1

Viomax, New Analyzer Platform, Memosens, InduMax P, Turbimax, TopHit, Sample Preparations, OxyMax W, OxyMax H, OrbiSint, OrbiPore, OrbiPac, OEM, ConduMax W, InduMax H, ConduMax H, Chloromax, Ceramax, CeraLiquid, CeraGel

Product Code: CPS16D-, CAS51D-, CLS50D-, COS22D-, CLS82D-, CLS54D-, CAT860-, CA80AL-, COS51D-, CPS171D-, CPS31D-, CPS341D-, CPS41D-, CPS42D-, CPS441D-, CPS471D-, CPS491D-, CPS71D-, CPS72D-, CPS76D-, CPS91D-, CPS92D-, CUS50D-, CUS52D-, CPS12D-, CPS96D-, OCCS50D-, OCUS51D-, CPS11D-, CPF82D-, CPF81D-, COS81D-, COS61D-, CLS21D-, CLS16D-, CLS15D-, CCS142D-, CAT820-, CAT810-
Region/Country: Russia
Approval Agency: Rosstandart
Approval Number: DE.C.31.004.A NO 70194

Turbimax, TopHit, OxyMax W, OxyMax H, OrbiSint, OrbiPore, OrbiPac, New Analyzer Platform, Memosens, InduMax P, InduMax H, ConduMax W, ConduMax H, Chloromax, Ceramax, CeraLiquid, CeraGel

Product Code: CPS171D-, CPS31D-, CPS341D-, CPS41D-, CPS41E-, CPS42D-, CPS441D-, CPS471D-, CPS47D-, CPS491D-, CPS71D-, CPS71E-, CPS72D-, CPS76D-, CPS77D-, CPS91D-, CPS91E-, CPS92D-, CPS96D-, CPS97D-, CUS50D-, CUS51D-, CUS52D-, CA80HA-, CA80SI-, CCS120D-, CCS142D-, CCS50D-, CCS51D-, CLS15D-, CLS16D-, CLS21D-, CLS50D-, CLS54D-, CLS82D-, COS22D-, COS51D-, COS61D-, COS81D-, CPF81D-, CPF82D-, CPS11D-, CPS11E-, CPS12D-, CPS12E-, CPS16D-
Region/Country: Russia
Approval Number: OC.C.31.004.A NO 75181
Accessories / Spare parts
Calibration solution CLY11-A, 74,0 uS/cm

500 ml, reference temperature 25oC. Precision solution referred to SRM of NIST. With temp. table for qualified calibration of conductivity measuring systems acc. to ISO

Calibration solution CLY11-B,149,6 uS/cm

500 ml, reference temperature 25oC. Precision solution referred to SRM of NIST. With temp. table for qualified calibration of conductivity measuring systems acc. to ISO.

Calibration solution CLY11-C,1,406mS/cm

500 ml, reference temperature 25oC. Precision solution referred to SRM of NIST. With temp. table for qualified calibration of conductivity measuring systems acc. to ISO

Calibration solution CLY11-D,12,64 mS/cm

500 ml, reference temperature 25oC. Precision solution referred to SRM to NIST. With temp. table for qualified calibration of conductivity measuring systems acc. to ISO

Calibration solution CLY11-E,107,00mS/cm

500 ml, reference temperature 25oC. Precision solution referred to SRM of NIST. With temp. table for qualified calibration of conductivity measuring systems acc. to ISO