This product is not available in this market.
Benefits at a glance
The panel is the complete solution to measure free bromine together with pH compensation. It provides high-precision, stable measurement in seawater for desalination plants, process or cooling water, swimming pools and fish farming industry.
Its standardized piping with fittings and process connections simplifies integration into your process. For you, this means easier planning and installation, faster commissioning, and security when selecting the measurement technology.

Fast commissioning

The panel comes fully wired and piped. You only need to mount it, connect it to power and water, and you are ready for operation.

Memosens for simple and safe operation

The Memosens sensors for free bromine and pH are pre-calibrated. Just plug them in and benefit from reliable measurement, not affected by moisture or corrosion.

Consistent medium flow

The Flowfit CYA27 assembly with integrated flow monitoring makes sure that your measurement is always operational. The status indication light indicates the NAMUR NE107 status, allowing for direct reaction to errors.

Perfect adaption to process requirements

Thanks to the modular design of the assembly, the bundle can easily be extended to more parameters such as ORP, conductivity or dissolved oxygen. This offers you the necessary flexibility to adapt the panel to your process requirements at any time.
Bundle in Detail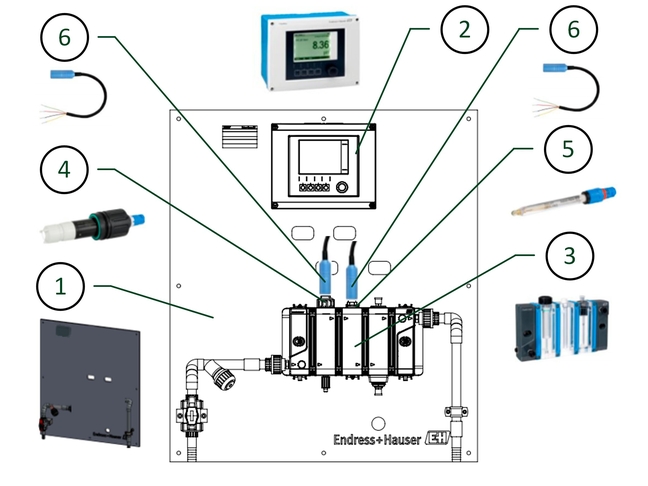 Components and Pre-Configurations
To ensure the compatibility of the components with one another it has given certain fixations. Open parameters give you the freedom for individual configuration.

Components can be configured within the bundle in the cart

1

Technical Special Product Analysis CSOL

>>Parameter, Transmitter:

Chlorine/Chlorine dioxide

Bundle 02 CDP50 free bromine Panel

2

1-/2-channel transmitter
Liquiline CM442

2x digital input, 2x digital output

3

Flow assembly for multi-parameter measurements Flowfit CYA27

CYA27-AA1A12A10AAAAAAAAAAAAA1

Material Additional Parts/seals:

Disinfection+pH+flow indication

>30 l/h (standard flow setting)

4

Digital free bromine sensor
Memosens CCS55D

Non-hazardous area + UKCA marking

5

Digital pH sensor
Memosens CPS11E

Basic version, zero point pH 7,0, temperature sensor NTC 30k

1-12 pH, -15...80oC, 0,8...17 bar (abs)

PTFE ring junction, salt store, saturated KCl, Ag/AgCl

6

Digital measuring cable
CYK10
Simple products

Easy to select, install and operate
Technical excellence
Simplicity
Standard products

Reliable, robust and low-maintenance
Technical excellence
Simplicity
High-end products

Highly functional and convenient
Technical excellence
Simplicity
Specialized products

Designed for demanding applications
Technical excellence
Simplicity
FLEX selections
Technical excellence
Simplicity

Fundamental selection

Meet your basic measurement needs

Technical excellence

Simplicity

Lean selection

Handle your core processes easily

Technical excellence

Simplicity

Extended selection

Optimize your processes with innovative technologies

Technical excellence

Simplicity

Xpert selection

Master your most challenging applications

Technical excellence

Simplicity